ZHA headquarters approved for business stadium construction
Competition proposal by Zaha Hadid Architects for a new business center in Lithuania has just been approved by the city of Vilnius. Integrated into the community's city map and the popular public square adjacent to the site, the Developed by ZHA Business Stadium Central will emerge as a new and dynamic convention center with construction scheduled to begin in the second quarter of 2023.
"Business Stadium Central creates a variety of new public spaces and facilities for the city in a design that incorporates flexible workspaces that encourage interaction and collaboration, as well as extensive health and wellness facilities for use by everyone in Vilnius." shares ZHA.

all images © Frontop
two connecting low towers with rich space programs
The extends to 24,000 square meters ZHA The proposal includes two low-rise towers of 8 and 9 floors, connected at street level by a courtyard atrium, two floors of public facilities and a skybridge connecting both buildings at level five. Together, these towers feature curved facades and stacks of cantilevered balconies overlooking the historic Gediminas Castle Tower in the heart of Vilnius.
Reinterpreting the dynamic geometries of the neighborhood's existing civic architecture, Business Stadium Central also features 11,750 sqm of landscaped terraces, roof gardens and plazas that open directly onto the Martha Schwartz-designed public plaza. The atrium courtyard is lined with cafes, restaurants and shops and serves residents, office workers and visitors. In addition, elevators lead to the top floors, which are equipped with two public swimming pools, saunas, steam rooms and sun decks with panoramic views over Vilnius' historic Old Town.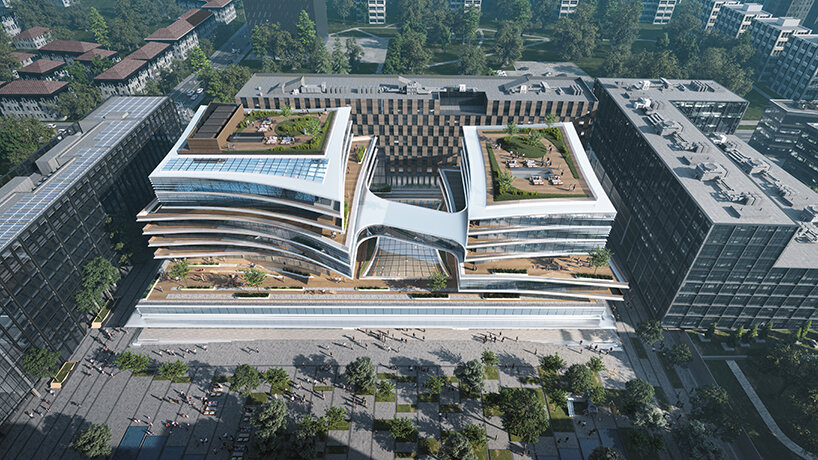 Meanwhile, to extend the project's lifecycle, ZHA designed flexible office spaces on the central floors of each tower with maximum adaptability. These workspaces, which vary in size and layout to suit a variety of businesses, from new start-ups to established international corporations, are connected to leafy roof gardens and terraces that offer views of the surrounding city.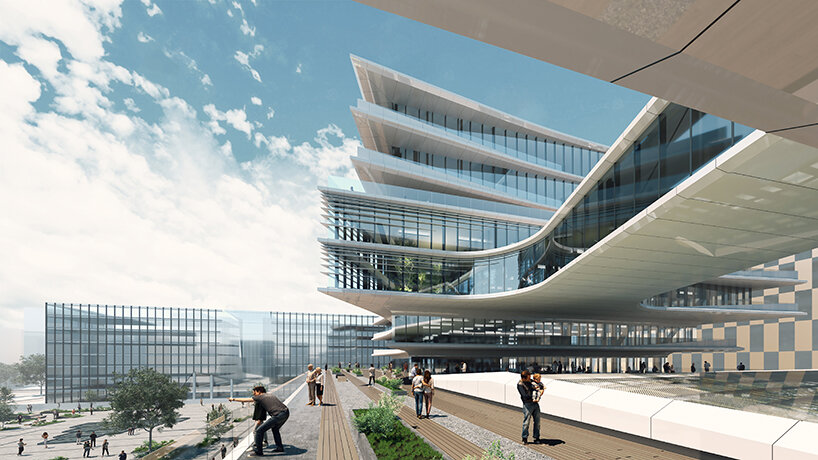 Designing according to the humid climate of Vilnius
Amidst Vilnius' humid continental climate, the architects drew on annual solar analysis to assemble the outer shell – a series of glazed façades with precisely engineered louvers and balconies that minimize direct sunlight in summer and maximize solar heat gain during colder periods. 'These external solar shading devices are aligned with the lower sun position between October and April of approximately 38 degrees and are perpendicular to the highest sun position in the Vilnius summer sky of 151 degrees," continues ZHA.
Highly efficient heat exchange and recovery systems, utilizing natural hybrid ventilation for most of the year, will reduce energy consumption, while double insulated low-e glazing ensures an excellent level of naturalness in all public spaces and workspaces.