Court Fort by Compartment S4 – a living and working space in India
Multidisciplinary design practice Compartment S4 constructs "Court Fort" which Life And Work space for one urban farmer In India. The project aims to create a dialogue between the built form and its farm-like environment to spread knowledge about urban agriculture and natural and organic farming techniques. Located on the outskirts of the city of Ahmedabad in Gujarat, the structure hosts seasonal workshops, film screenings, lectures and seminars on the benefits of farming in urban areas. The space includes four main zones.
The first zone occupies over sixty percent of the property to the east and forms the agricultural area. The second part forms a natural central pond, held together by wild greenery and complemented by the water basin connected to the structure to the east. The third part plants a dense greenery that, together with the other two areas, completes the ecosystem and invites different species of animals to the property. The fourth component forms the built space, which is a minimal footprint conceived as a non-invasive structure that coexists with its surroundings. Organization of a C-shaped introverted framework that brick– Built fabric weaves a plan that encloses programmatic requirements a private courtyard in the south.

all pictures by Dhrupad Shukla
Load-bearing, unplastered brick walls frame the building
The inner courtyard forms a visual axis with the entrance to the north and divides the main living and working space into a formal work and dining area to the west and a lounge meeting zone to the east. The floor plan also provides for a small kitchenette, a washroom and a shared toilet accessible from the courtyard. The bedroom develops as a relatively private space connected to the living area and the outdoor terrace.
The load-bearing exposed brick walls form the main framework, topped by a reinforced concrete pent roof that shields the building. The interior walls are finished with lime that highlights the structural system. The red bricks and gray recycled panels are chosen by the creative studio as the main material, while wooden furniture and polished concrete floor with black Kadappa stone inlay complement the design. The cornice seats at the entrance and the bed are cast on site, while the rest of the furniture is designed to be flexible and adaptable to different arrangements. Openings throughout the interior create a circulation flow and visual continuity between the indoor and outdoor spaces. The northwest outer corner of the structure carves a small amphitheater overlooking the farm, dedicated to workshops and training. The project promotes a minimalist and natural living environment that combines functionality and aesthetics with an easy-care palette of materials.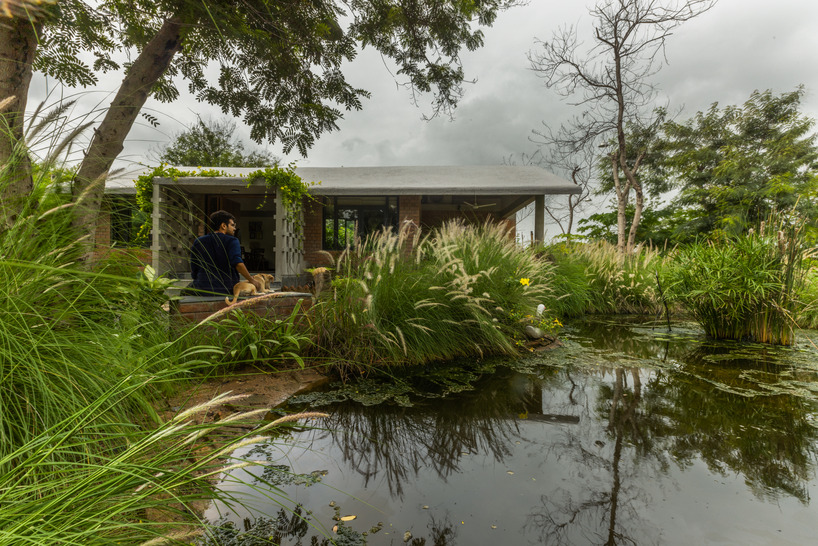 The built structure coexists harmoniously with the ecosystem on the site

The northwest outer corner of the structure carves a small amphitheater overlooking the farm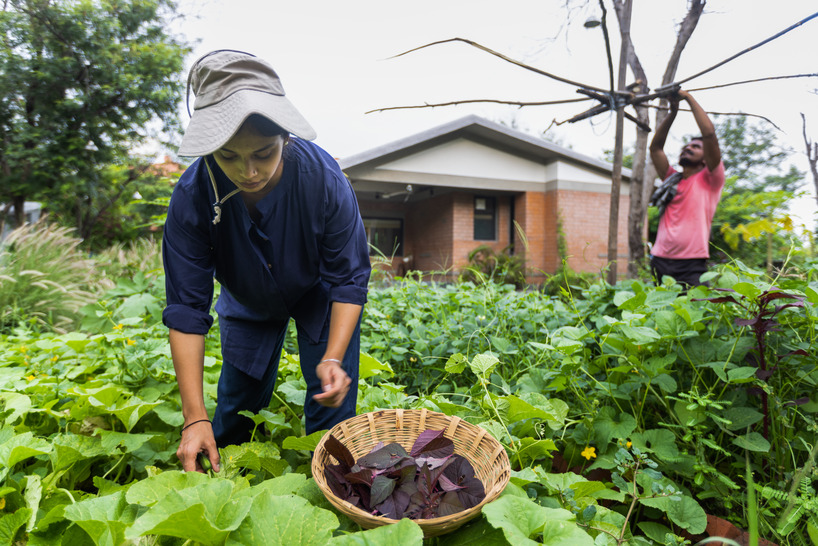 The load-bearing, unplastered brick walls carry the reinforced concrete pent roof