mobile architecture office combines parisian urban archetypes
At the intersection of three Parisian urban situations in the heart of French Capital implements the multi-faceted innovation of the mobile architectural office residential Complex. The project consists of six residential units and one commercial space and is hidden behind a white rib metal Skin that combines the distinctive qualities of the city's neighboring Faubourien architecture with understated fashion nature, the cohesive cleanliness of the brick facades and classical architectural language reinterpreted by postmodern structures from the 1980s.
The program configures six residential units on five floors, including two triplexes on the ground floor, above a commercial area. Each unit is arranged around a central courtyard, the interior facade of which is clad in nature Woodand is served by a communal staircase and outside landings for sharing with the neighbours.

all images © Cyrille Lallement
6 housing units hidden behind a ribbed metal skin
The site is on the corner of Rue Robert Blache and Rue du Terrage. To reflect its suburban structure, the project reinterprets the fusion of faubourienne architecture, compact volumetry, facades ordered by regular vertical openings, discreet fashion nature and simple construction forms.
On the ground floor, rue Robert Blache, The team at Mobile Architectural Office has created a strong sense of revitalization along the street frontage by integrating multiple retail spaces. Access to the residential units is via a bright passage hall with a view of the adjacent Rue du Terrage. On the upper floors, all apartments are double or triple oriented and feature uniform windows that offer residents optimal natural light. Inside, some structural elements of wood carpentry have been revealed in discreet, natural expressions.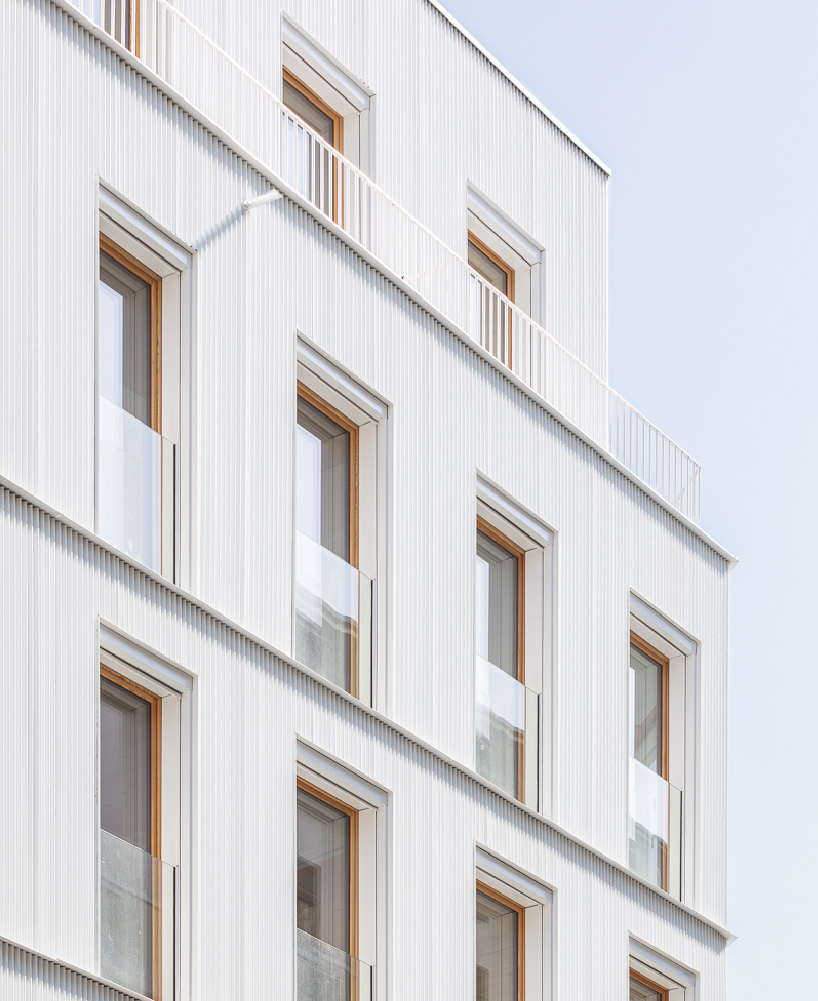 Mobile Architectural Office has developed a construction principle based on both vertical and horizontal prefabricated timber, with solid facades and floors from the Basque Country. This allows for low-carbon development and efficient construction, allowing the structure to be assembled within ten days. To facilitate the large spans in the commercial premises and the relationship with the ground, the structure of the ground floor is made of concrete.
A rainwater collection system on the roof collects precipitation and feeds the planters above the bike room and green space on the ground floor. A recovery system in the tank feeds the taps in the common areas and all the sanitary facilities.