galeries lafayette bathed in subtle light
At the invitation of Galeries Lafayette, Korean artists Kimsooja has installed a site-specific, light-oriented artwork "To Breathe" in his Paris Haussmann. Kimsooja applied a special film to the historic building's iconic glass dome, which diffuses the light into a spectrum of colors. Throughout the day, the building's exteriors and interiors become dazzling, ever-changing landscapes. "To Breathe" is the first installation of this kind in Paris on this scale and invites the viewer to reflect on the sensory and meditative qualities of light.
To Breathe will be on public view from April 14th to June 30th, 2023. It will cover 1,000 square meters of glass with 660 panes.

Kimsooja, Respirar – Una Mujer Espejo / To Breathe – A Mirror Woman, Crystal Palace, 2006. Photo Jaeho Chong
Courtesy of Kimsooja Studio
from grüber to kimsooja
Centered around the iconic glass dome of Galeries Lafayette Paris Haussmann, Kimsooja's installation establishes an unprecedented dialogue with Galeries Lafayette Paris Haussmann's architectural legacy Space. At the time of construction in 1912, the dome was adorned with Jacques Grüber's stained glass windows, which were eventually replaced with white glass during World War II. By reintroducing color into the interior of this historic Art Nouveau building, the Artist is a tribute to its original design and ambience. "To Breathe" knits together two works of art from very different eras.
The Galeries Lafayette team writes: 'Kimsooja restores the colors of the dome using the natural properties of light, as Jacques Grüber originally intended.'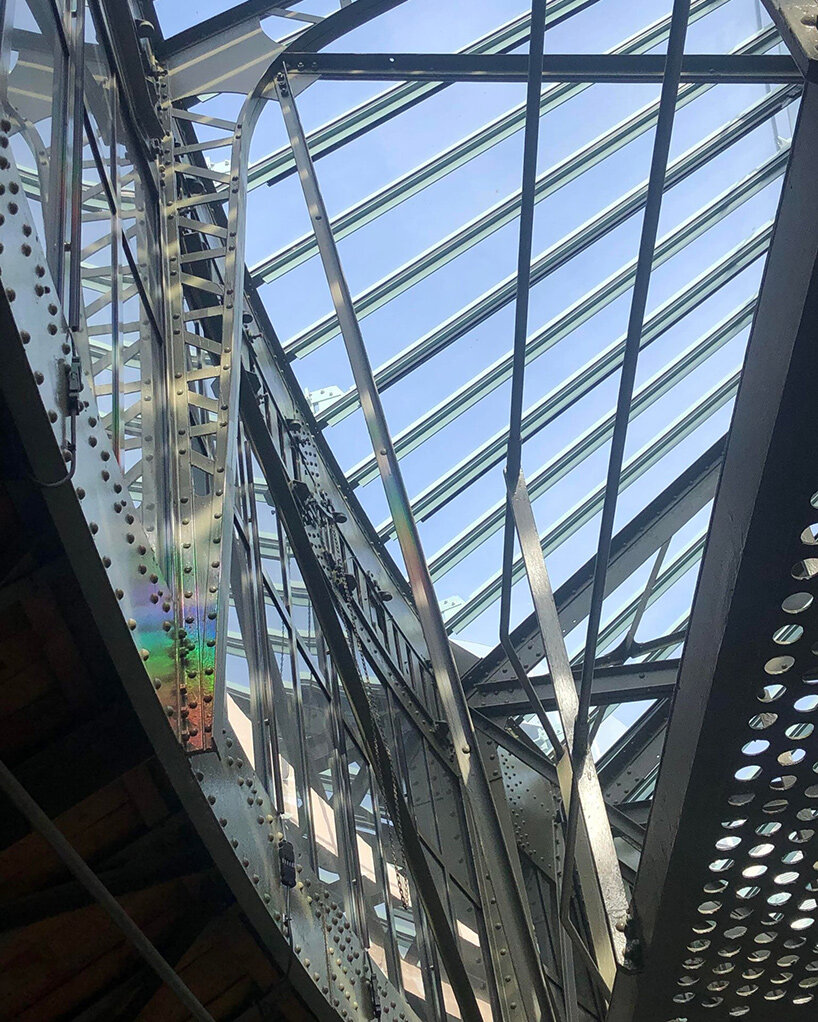 Kimsooja, On-site test "To Breathe" by JADE, Interstitial Dome Space, Galeries Lafayette Paris Haussmann, 2022
Courtesy of Galeries Lafayette
Breathe series.
The larger To Breathe series was conceived by Kimsooja in 2006 when she transformed the bottari—a culturally and socially significant object that means "bundle" in Korean—into an architectural form. Using diffraction film, the Korean artist envelops entire spaces to highlight their architecture and illuminate their stories, like beams of light from Bottari.
To Breathe is an artwork that responds to its natural environment, aiming to capture how light shifts and changes with the weather and the position of the sun. When exposed to light, a diffractive film produces ephemeral rainbow spectra that develop as people move about the room. The artist encourages the viewer to appreciate the magical, iridescent hues that emerge effortlessly through the concepts of "not doing" and "not making" that underlie her work.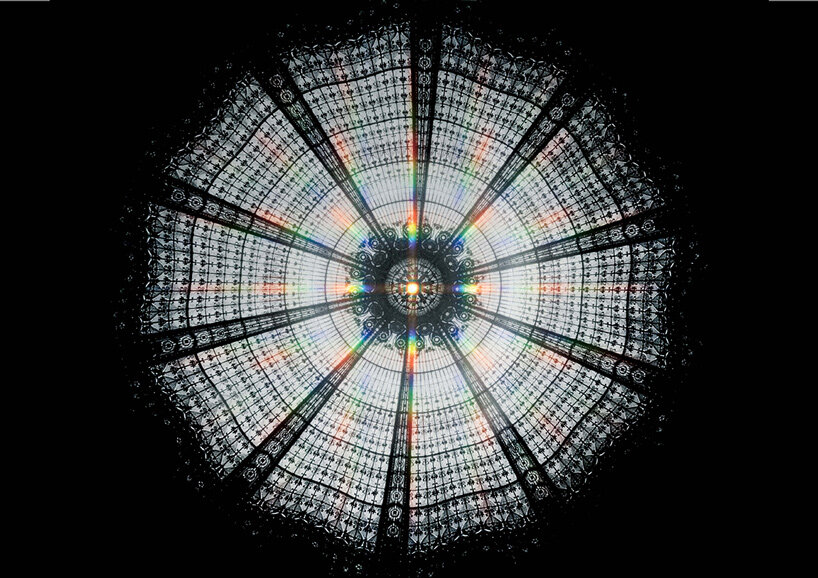 Rendering of the dome, Galeries Lafayette Paris Haussmann | Courtesy of Galeries Lafayette
the intricate glass dome
Théophile Bader envisioned a "luxury bazaar" where the sun's rays would filter through a domed roof, giving the great hall a golden hue and highlighting the products for sale. Architect Ferdinand Chanut made this dream come true with a dome featuring an undulating design that was dynamic in daylight. The dome's style is often described as Neo-Byzantine, using elements such as gold and intricately carved ironwork by Edouard Schenck, which radiate outwards around the panes of glass, letting in a warm, colored light.
Jacques Grüber intended to create a stunning and vibrant show with natural light that would change throughout the day, so he incorporated a variety of colors from turquoise blue to vermilion into the stained glass windows. Instead of focusing on decorative elements, he tried to capture the viewer's eye with bright colors and create an enchanting atmosphere.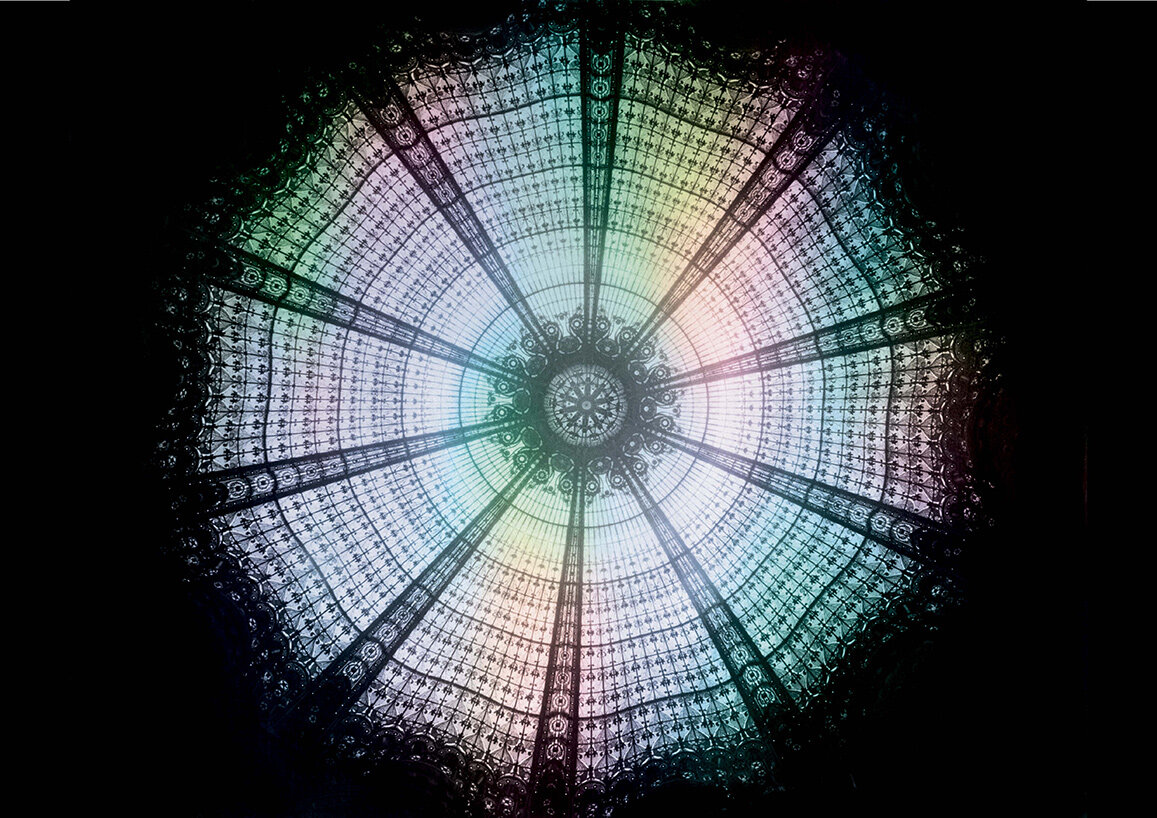 Rendering of the dome, Galeries Lafayette Paris Haussmann | Courtesy of Galeries Lafayette
a work of art made of light and sound
Visitors to the iconic glass dome can enjoy a unique and intimate "To Breathe" experience that includes the ambient sounds of Kimsooja's breath. Initially faint, the inhaling and exhaling gradually becomes louder until the visitor is completely surrounded by the rhythm of breathing and a changing color landscape. This provides an opportunity for contemplation and meditation as the artist makes air and light visible and tangible, filling the space with creative energy for everyone to experience.