exhibition "déplacé∙e∙s" by jr debuts in turin on 9 february
French artist and photographer JR debuts on February 9, 2023 in Turin with his first Italian solo exhibition entitled "Déplacé∙e∙s". show will cover 4,000 square meters and will showcase JR's diverse artistic expressions; Together, his exhibited works will shed light on today's reality and provoke reflection on humanitarian crises around the world. The event is open to the public from February 9, 2023 to July 16, 2023 – with a pre-opening performance scheduled for February 7th
Starting out from the Parisian banlieue more than twenty years ago, JR has introduced his art to every corner of the world – namely monumentally public intervention and performances that encourage community interaction and participation. From the Brazilian favelas to a maximum-security prison in California, from the Louvre pyramid to the Egyptian pyramids, from the Israel-Palestine border to the Mexico-United States border, the artist never failed to engage with the global Dealing with atrocities and fragilities witnessing families and children.

all pictures © JR
on communities affected by war, hunger and climate change
Against this background, JR put together the exhibition "Déplacé∙e∙s". Turinwith the help of the Compagnia di San Paolo Foundation and curator Arturo Galansino to examine the reality of refugees displaced and affected by war, famine and natural disasters.
In fact, the problem of migrants and refugees has been part of his artistic exploration for a long time. With the "Déplace∙e∙s" project launched in 2022, the Artist has traveled to crisis zones, from war-torn Ukraine to the endless refugee camps of Mugombwa in Rwanda, Mbera in Mauritania, Cùcuta in Colombia and Lesvos in Greece, to reflect on the difficult conditions thousands of people find themselves in today. More importantly, his interventions always aim to engage these marginalized communities to encourage freedom, imagination, creativity and participation.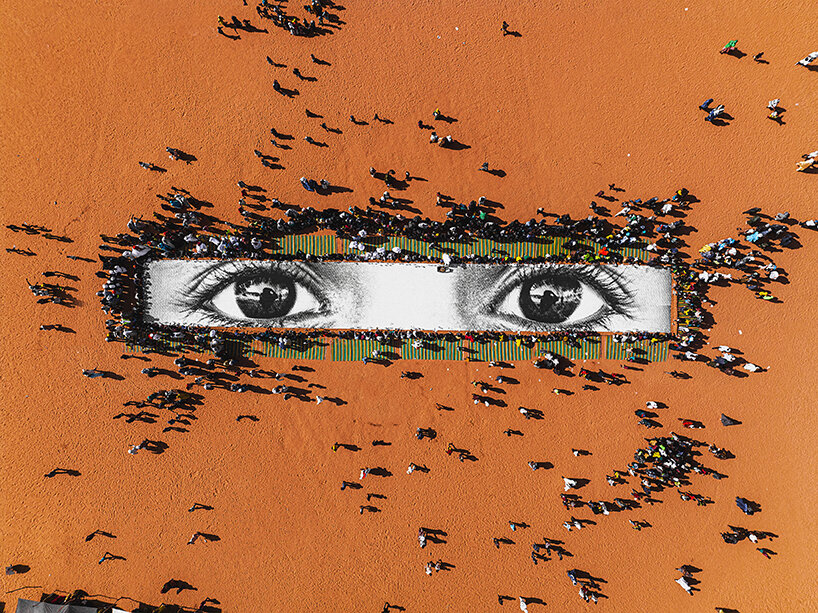 Déplacé e s: Picnic around 'Ajara' – Mauritania, 2022
"Although ephemeral, JR's art has an impact on society and the world we live in. It is made for people and is made with people and shows the importance of our individual and collective role in improving the present and trying to answer a central question for the artist: Can art change the world?' writes Gallerie d'Italia.
On February 7th, before the official launch, JR will create a public art performance attended by hundreds of people bringing five canvases from the adjacent streets to Piazza San Carlo. These canvases feature drone footage of the children he has met on visits to refugee camps from Rwanda to Greece, some of which will be featured in the exhibition.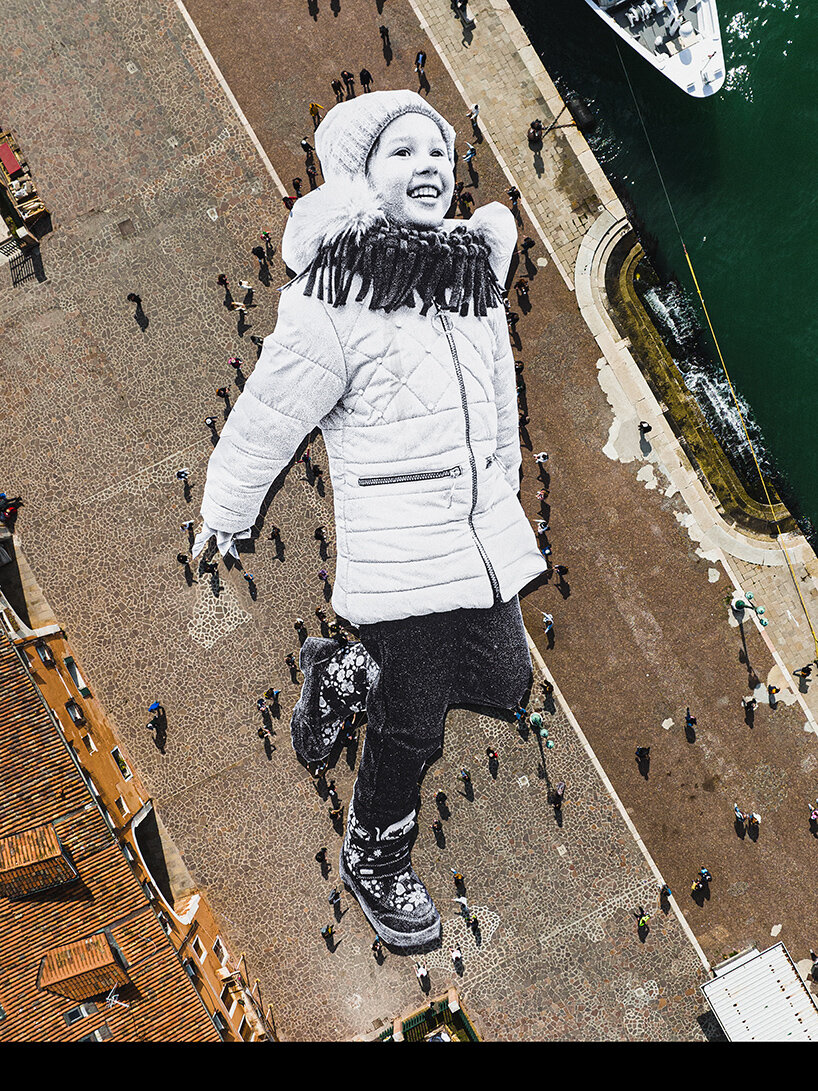 Déplacé e s: 'Valeriia' – Venice, Italy, 2022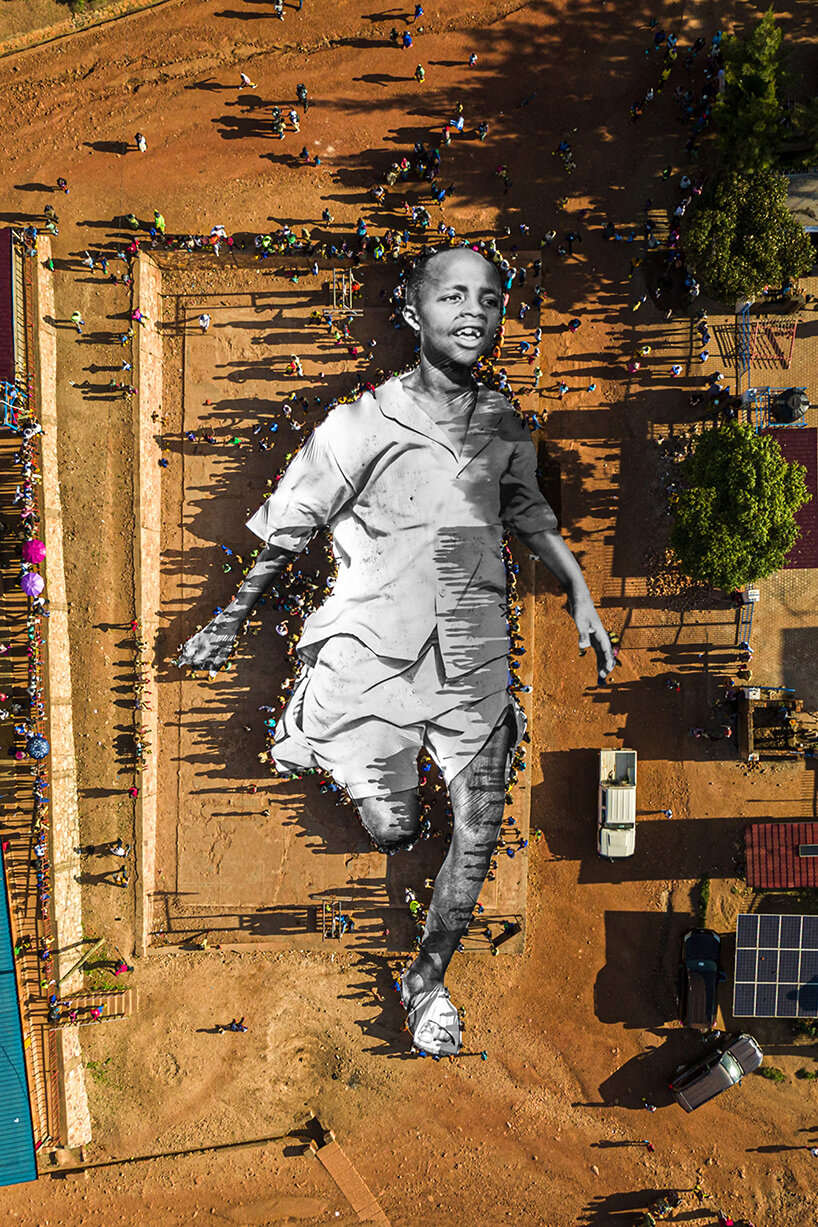 Déplacé e s: 'Thierry', Mugombwa, 2022
Exhibition info:
exhibition name: Déplace∙e∙s
Location: Gallerie d'Italia, Turin, Italy
Artist: JR | @jr
curator: Arturo Galansino
Employees: Foundation Compagnia di San Paolo
Events: 09/02/2023 – 07/16/2023