Hello morning! It might not be the biggest hit on AppleTV, but on the bright side, it features some of the most exquisite logo designs to hit the small screen in a long time. The designer behind the logos, posters, and signs of the fictional 1950s sci-fi series is Matt Stevens, and he tells me exactly how it all came together.
As a graphic designer with an agency background, someone used to putting a lot of work, time and attention into creating designs that are "just right" was "really hot on our heels" when working on a TV show, laughs Stevens. "It was really about generating a lot of ideas quickly. And don't deal with it too soon. And I think that as a logo designer I had to let go of a lot of you guys that love the process and just sort of go with the flow.
The Apple TV Plus show is set in an alternate 1950s America, where technology has evolved to include robotic servants and AI delivery drivers, but still clings to the clean lines and curvaceous simplicity of mid-century design. In Hello morning! People can live on the moon but look good along the way.
"We really tried to do something that felt mid-century but not overly intrusive," explains Stevens. He tells me about the logo design for Hello Tomorrow! had to walk a fine line between direct mid-century inspiration and the show's overall aesthetic, but they didn't have to "feel like they could land right in that era."
It's a balancing act that many imaginary designs have to manage; juggling taking direct inspiration from a time period or design style, but also offering something new and unique. Hello morning! is not necessarily a historical piece, but a fantasy of increased consumerism in which the old world collides with the new.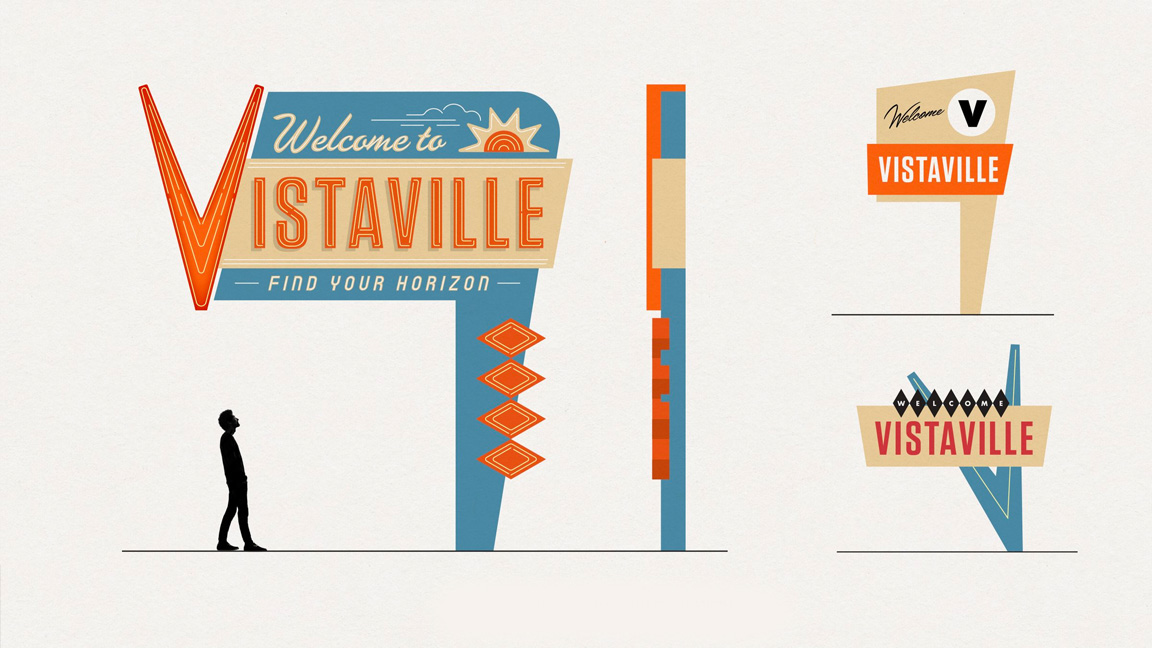 "With the Brightside logo," says Stevens, "it has to feel a bit anachronistic, it had some modern tendencies, but it could also feel like living in a mid-century world."
The Brightside Lunar Colony is the travel and brokerage company at the heart of the show, its vendors selling the dream of a new life on the moon to the populace of Vistaville, a small town built of stone and wood seemingly always threatened by the advances the new technology. With that in mind, the Brightside logo should feel fresh, but still be a part of the world.
"I'm particularly proud of the Brightside logo," Stevens shares. He explains that not only is it commissioned by an imaginary mid-century design, but that he approached the development of this logo as a traditional designer, "where I thought about all the ways a logo needs to work and then burst out, to be used as an element."
If you have Hello Tomorrow! You'll find the logo transformed into sales staff pins, cufflinks, and other subtle uses. "I've been thinking about primary and secondary logo designs," the designer reveals, adding, "I'm pretty proud of that."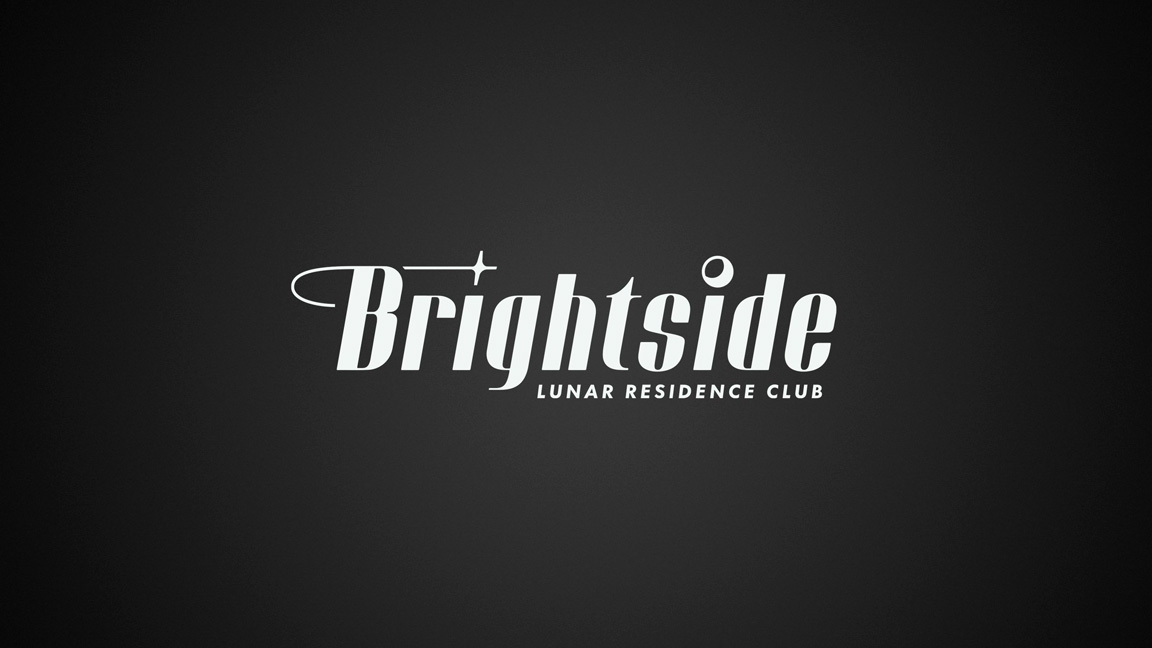 When creating a logo for an imaginary universe that also has a historical background, it's easy to fall into common mistakes. This may be due to a lack of research, as Stevens says: "People can get attached to what they think about that time and that's how a lot of cliche things get done; we didn't want to look like a 1950's themed restaurant. […] We didn't want a lot of asterisks and silly architectural shapes."
Research was essential to determine what was actually created in the 1950s, using old Sears catalogs and advertising from the period to provide a basis for the work. For Stevens, it was important to work with accurate references and not an "impression you have of what was being done during that time, because you could easily fall into the trap of doing things that are kind of cliche of it Epoch".
The depth of the world building, just from a graphic design standpoint, is actually quite incredible. Even before Hello Tomorrow! was picked up by AppleTV Plus, a short film was made following the exploits of two jetpack salesmen, and for it Stevens created a packed pitch book with logos, graphics, in-world signage and posters.
When it came to the final show, Stevens even created design-accurate notes for many areas of the show's production and content, including a full rules manual for the show's imaginary sport, jet ball, "It's kind of a twist on mostly American baseball with some element of American football," says Stevens.
"It was fun just working on something that will probably never be on the show," says Stevens, who kind of teases that some Easter Eggs fans might spot them. "There are several jet ball players on the show who are friends with Ryan Kalil [a former NFL player and owner of Mortal Media]shared Stevens, who also points out that the number 67 was crept into many of the show's designs, which was Kalil's NFL number. "I was trying to hide a 67 somewhere in there," he laughs.
Stevens' job as a graphic designer and former agency head (he now works for his own clients) rather than as a concept artist gives him a professional insight into branding, specifically building a brand identity, even an imaginary one.
This real-world approach to design is evident in the travel posters created for the show, which can be seen on the walls of the sales office. Stevens tells me, "Part of what I love about branding is making many different interpretations of one thing. So if I just think from that point of view, here's the logo, here's the travel posters, would that kind of company come up with those kinds of otherworldly settings, it was fun."
Unlike the real world, where directors, clients, and agency staff can study and iterate on ideas, developing branding for the show was hard work, Stevens says, because everything was done at a fast pace. But it made sure people didn't have much time to hesitate.
"Sometimes you have too much time on logo design projects, which means there is plenty of time for the client to ask about other options," he explains. This shortened process made the work a little easier because everyone involved was open to new ideas. When you work in the real world, Stevens says, people are closer and more passionate about branding. "I work with entrepreneurs and startups on most of my logo projects, so it can be difficult because people are very, very emotionally connected to what I'm creating."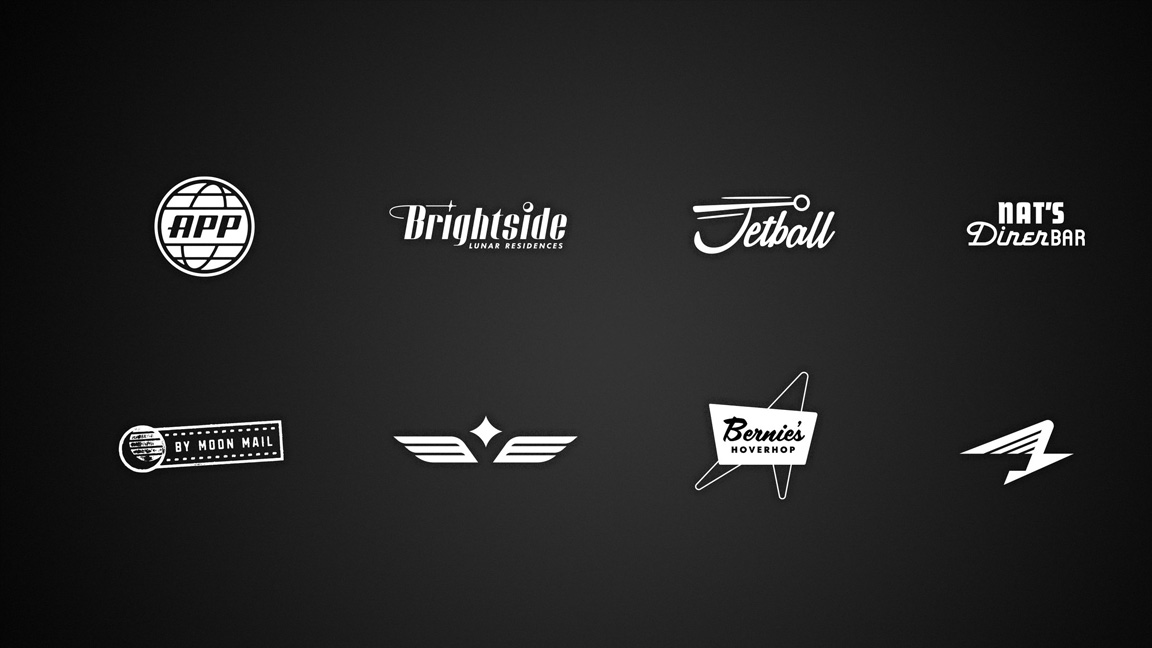 It's no coincidence that Stevens was commissioned to design the logos for Hello Tomorrow! aside from his friendship with Kalil, the artist has a penchant for mid-century illustration. "I think my work tends to try to be reductive […] I find when I do my own work I tend to be more graphic and my background is more in print design. I just love the simplicity of it. I love the graphic nature of it. I definitely have a special fondness for the elegance and simplicity of mid-century design. I think it's really hard to beat."
Check out more of Matt Stevens' work on Hello Tomorrow! on his website (opens in new tab)including his work on the Umbrella Academy logo for the Netflix show.
Continue reading: