Designed by technology company Twelve South, the HoverBar Duo is one of the latest in the line of iPad stands. With a flexible arm that's easy to position, it's a great way to raise your iPad to eye level to otherwise keep your hands free. Whether you're streaming movies, filming a video, or part of a business video call, the HoverBar Due is a great accessory for any iPad enthusiast. You can even use it as a second, smaller screen for your Mac if you wish. As the name suggests, the Duo has two different viewing modes thanks to the included weighted desk base and shelf clamp, meaning it can either stand on a worktop or be attached to a shelf/surface via the clamp.
If you're looking to buy an iPad, we've got a detailed guide to the best Apple deals featuring many of these high-end tablets. If you're unsure about the differences between each iPad type, we also have a breakdown of the different iPad generations.
design
As an artist, I mainly use my iPad for digital art in Procreate. Unfortunately, the HoverBar Duo isn't ideal as a stand for drawing. The weight of an iPad adds significant wobble once attached to the clamp, and drawing feels unstable. I tried tightening each screw to make sure it wasn't a loose connection but the problem persisted. After extensive testing, I concluded that the jittering was mostly due to the QuickSwitch tab. It doesn't seem to sit quite flush when snapped into place. While this was disappointing from a personal perspective, the HoverBar Duo is not sold as a stand aimed at digital artists and as a stand for viewing purposes only, I had no issues whatsoever. It's easy to set up and the tablet feels secure.
I've also found that if the iPad is pulled too far forward while the bottom half of the arm is vertical, there's a significant risk of it tipping over. This was really a shame and risks damaging your tablet. So be sure to test the exact positioning limits to avoid this.
It's important to note that you cannot magnetically attach your Apple Pencil (2nd generation) for charging once the tablet is in the clamp. To combat this problem and ensure you don't lose that beloved accessory, Twelve South added a curved groove into the base. This helpful little slot ensures your pencil is stored securely and won't roll away. The HoverBar Duo is also fully compatible with all types of iPads and can even accommodate other tablet models if desired.
characteristics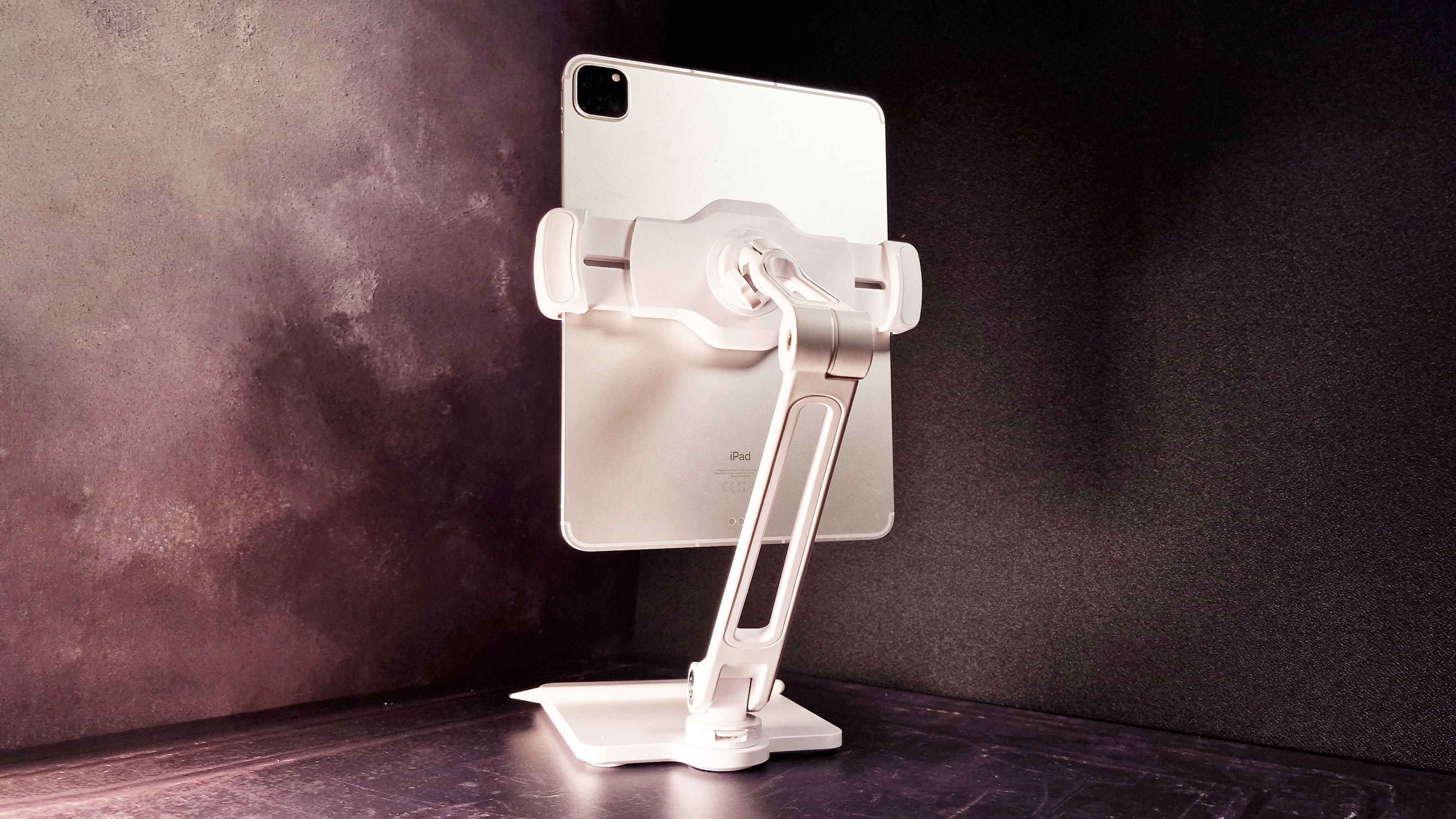 The second generation of the HoverBar Duo introduced the new QuickSwitch Tab. This handy little button means you can easily switch between the desk stand and shelf clamp with just a push of a button. The arm itself feels sturdy and fits the iPad Pro, and you can tighten the adjustment knob on the clamp to adjust how easily you can change the angle of your tablet. The HoverBar Duo comes with a variation of spare bits and assorted hex wrenches to tighten those pesky loose screws, which is a nice touch.
Price
Twelve South designs their products specifically for Apple technology, so it's no wonder the HoverBar Duo feels like a natural extension of the iPad itself. It's a decently heavy weight and the matte finish of the base looks and feels like premium kit that will upgrade your setup. With a retail price of $79.99 / £79.99, the HoverBar Duo doesn't exactly come cheap. It's a hefty price tag for a non-tech product, but it's a good addition to your tablet if you use it for a lot of general purposes, as mentioned above.
Should you buy the HoverBar Duo?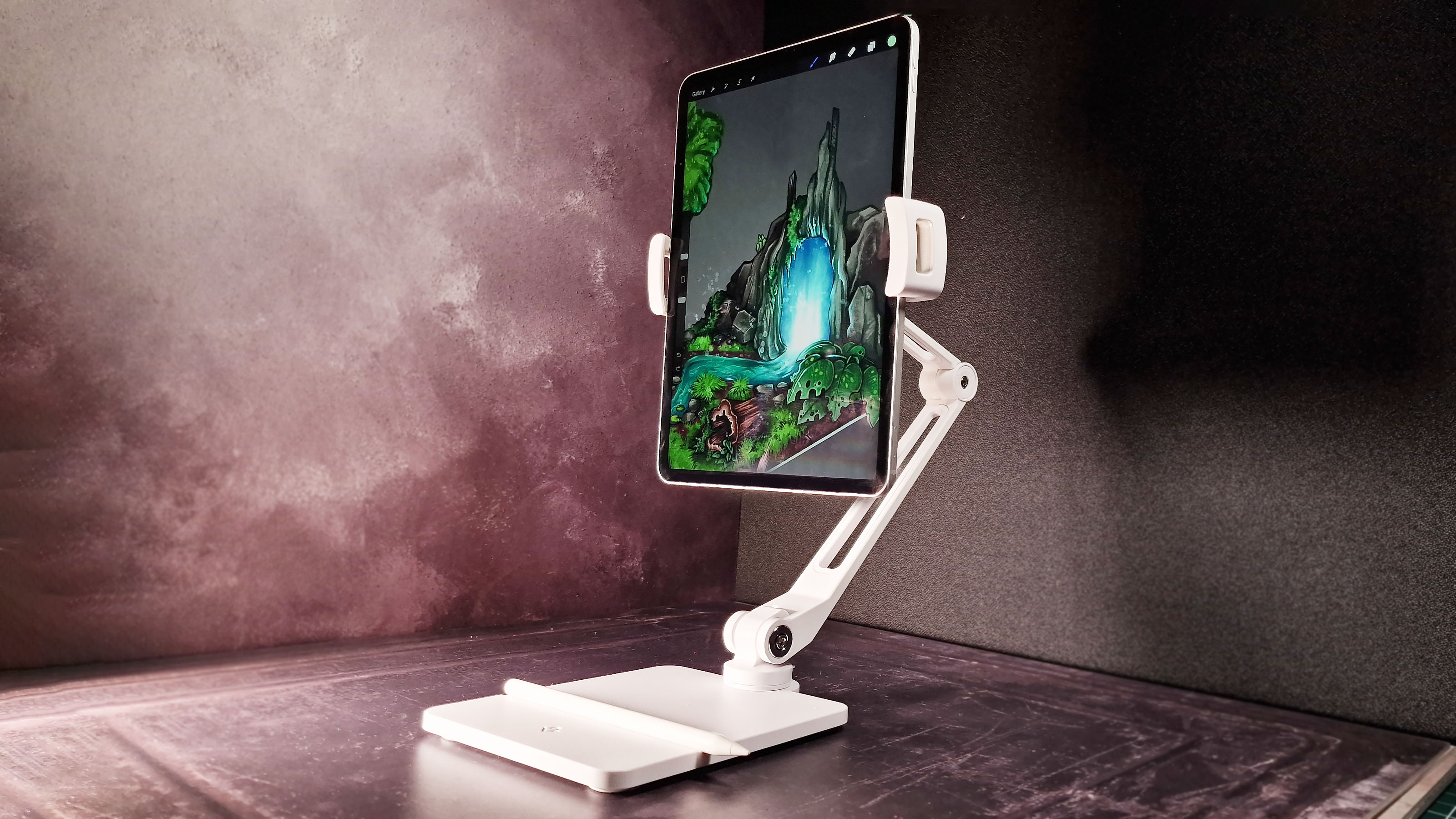 With a hefty price tag of over $70/£70, the HoverBar Duo isn't exactly a cheap iPad accessory that you'd buy on a whim. But you get what you pay for and the stand has a really nice solid build and high quality Apple style finish. As an artist, I was a bit disappointed with the slight wobble and potential for tipping when pressure is applied to the tablet – but the HoverBar Duo is primarily sold as a stand for viewing purposes, and I appreciate that given these minor issues it's not aimed at artists is marketed. The QuickSwitch Tab is an excellent feature for easily switching between the desk base and clamp when moving the stand, and overall I'd recommend the HoverBar Duo if you're looking for a great way to display your iPad.
Continue reading: