House in Nakamachi by architects Motoki Ishikawa
Motoki Ishikawa and his team of architects play with natural light for their cube House in the Nakamachi district in Japan. The boxy exterior lures passers-by with its rich earth color, but most of all with its squareness wooden Blinds that double as a sliding door.
Guests can fold down the individual shutters that affect the way sunlight enters the residence's interior. To allow the entry and passage of airflow, they can slide the wooden door aside, giving visitors ample space to be guided into the house, bringing with it an abundance of sights and air.
The cube house is located along the Kokubunji cliff line called "Hake" whose streets seem to enjoy different street heights. Neighboring homes wrap around the cube house in Nakamachi, creating a sense of secure community. From this concept, the team of architects draws on the idea of ​​openness and privacy, thus unraveling the wooden blinders of the window slits.

Images courtesy of Motoki Ishikawa Architects
Light changes gradually from the first to the second floor
The Cube House in Nakamachi by Motoki Ishikawa Architects comes through a modest, conventional wooden construction that expands inward. The interior moves progressively as guests first enter a low-volume space before the space expands, alluding to its intentional nature of the minimal use of furniture and the apparent use of skylight, which occupies almost all of the roof space.
The grid-based plan includes the locations of immediate areas such as the reception area that greets visitors right at the entrance, the location of the landscape-like windows, and the flow of light and air that allows for indoor/outdoor circulation. Going up to the second floor, the area clearly catches the gradation of light due to changes in elevation and orientation, while the first floor is private and receives subdued lighting.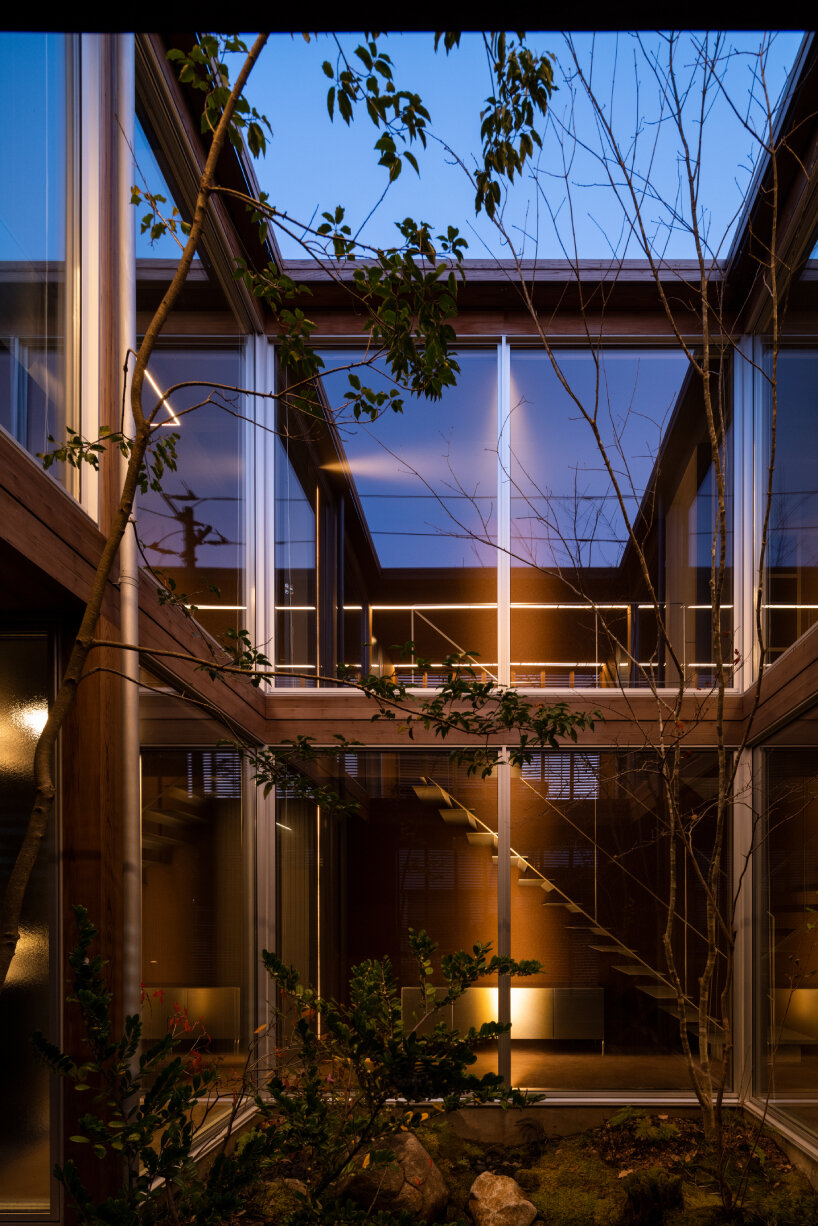 These changes in light and shadow, combined with the order and continuity of the floor plan, naturally create a sense of ambiguity, "As if the outside is inside and the inside is part of the outside" describe the architects. Despite the house's modest rectangular shape, the scene exudes depth. A modest garden area punctuates the heart of the residence and enjoys the natural light pouring in through the skylight above.
Inside the house, original products somewhere between handmade and industrial crafts intended for the Cube House in Nakamachi appeared, including wall, floor and ceiling materials, as well as plumbing, furniture, fixtures, lighting and even additional elements.
"This allows us to express continuity through the unification of materials without uniformity, while complying with the order of the plan, since each product is of the same standard and does not require difficult installation, simplifying the construction process and improving quality. ' say the architects.