Celebrating the 45th anniversary of the Hästens 2000T® bed
After celebrating 170 years since its inception last year, 2023 marks the 45th anniversary of the 2000T® Hästens bed and its iconic Blue Check® pattern, the brand's most recognizable feature. On the occasion of this double anniversary visited design boom Hästens' Headquarters to discover what makes these beds so unique. Since 1852, Hästens has distinguished itself through manufacturing excellence, which is the result of using the finest natural materials and its legacy of five generations of craftsmanship combined with cutting-edge research.
From conception to final product, every Hästens bed is handcrafted and consists of a complete system bed: a base, a mattress and a mattress topsheet. Production is exclusively on call with constant month-long waiting lists. They come with a 25-year warranty and are built to last a lifetime. The brand, which is proudly still family-owned, is headquartered in Köping, an hour from Stockholm, and is supported by around 300 employees who are a core engine for local business growth.
Over the past few decades, driven by the global ambitions of 5th generation CEO Jan Ryde, Hästens has rapidly expanded internationally with more than 300 partners in 45 countries worldwide. Hästens is not only the official supplier of the Swedish royal family, but also the first choice of celebrities, athletes and actors internationally. But what makes these beds so unique? How are Hästens beds made today? What is the legacy of its long tradition?

Video and text © Alice Minervini and designboom
Designboom visits Hästens headquarters
The first impression that designboom gets when entering the company headquarters Hästens is given through a collection of handwritten letters from customers who share their enthusiasm for beds, alongside certificates from Swedish kings and decades of international press coverage.
The family-oriented vision of the brand is underscored by the historical photos scattered throughout the factory and showroom, chronicling all the people who have contributed to the success of Hästens from its inception to the last few days. Hästens began as a saddlery company in 1852 and has always focused on a limited number of commonly used items to achieve outstanding quality.
They are thus establishing themselves as a leading company for premium products, initially in the Scandinavian regions and gradually expanding their reach to the international luxury market. Over time, from the agrarian economy to the industrial revolution, mattresses became increasingly central to their production, including equestrian accessories sold along with saddlers.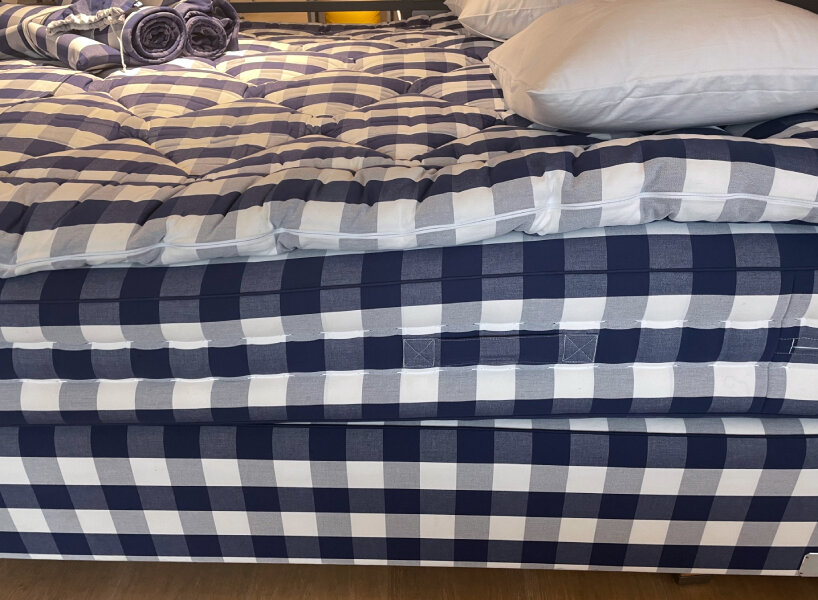 Image © Alice Minervi
The Hästens name and logo, literally 'horse' in Swedish, embodies the legacy of its heritage and craftsmanship that informs what the brand is today. Founder Pehr Adolf Janson's honest ethos still informs Hästens' mission today, which is to improve universal and esoteric objects like beds. The 2000T® model represents most clearly the interweaving of Hästens' long tradition with contemporary innovation.
It shows the result of decades of research into natural substances and technical improvements. Hästens continues to recycle natural materials used at its origin, such as B. Horse tails, combined with traditional craftsmanship and cutting-edge research to guarantee quality sleep. Horsehair, with its cavernous and elastic structure, is still an unprecedented material that, when braided together, provides support while allowing constant ventilation.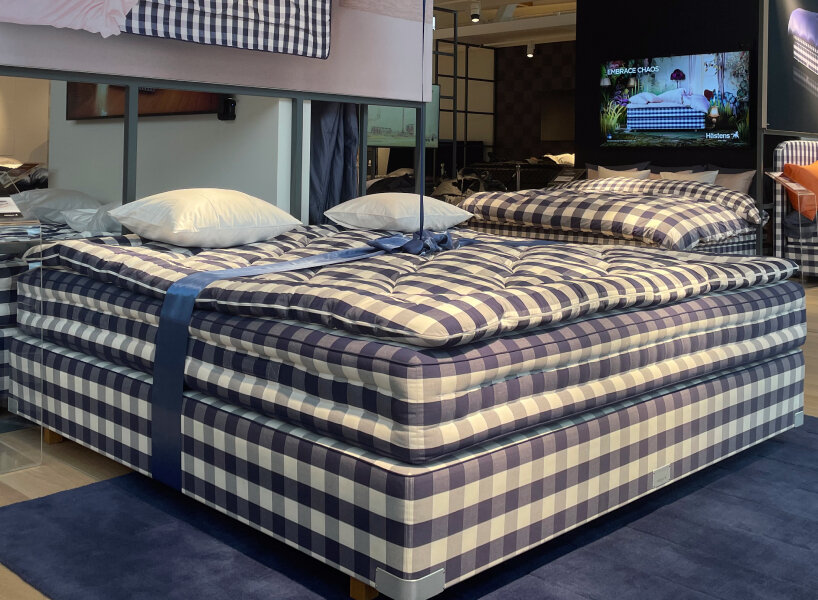 Image © Alice Minervi
Carefully selected horsehair plays a crucial role in regulating temperature, drying moisture and gently supporting the body. In addition, to keep the body temperature stable, there is a wadding layer that keeps warm while allowing continuous ventilation.
The middle mattress consists of three sets of springs that work together to increase the feeling of support while adding firmness. It can be personalized according to idiosyncratic body structures and customer preferences for a more morbid or stiff feel (soft, medium, firm, extra firm and combined firm).
The springs are incredibly quiet and isolate body movement to prevent disturbing other sleeping partners. In fact, the ultimate goal of Hästens beds is to reduce any disturbance that would wake you up at night from touching pressure points, noise, and temperature changes. In this way, users are guaranteed a restful sleep throughout the night.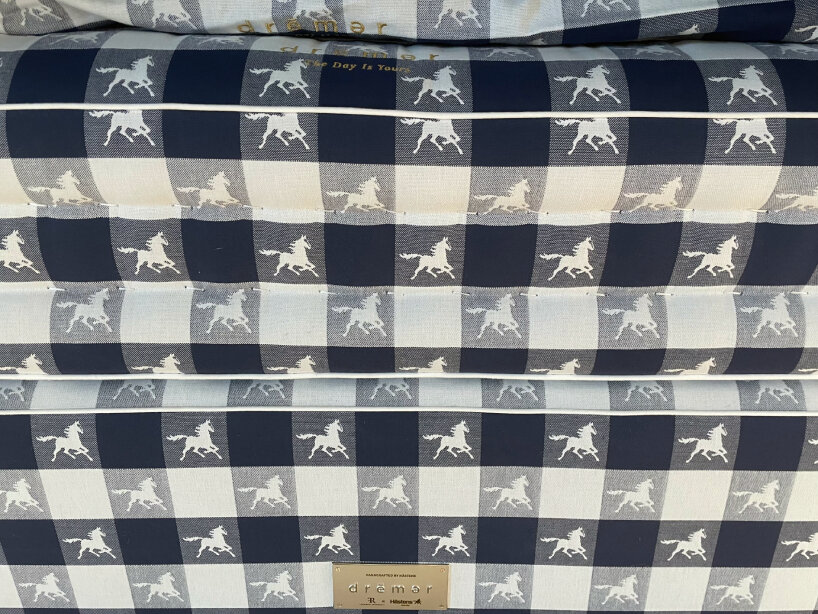 Image © Alice Minervi
The shade of blue improves sleep patterns
Known for its exclusive, carefully selected materials and uncompromising comfort, 2000T® remains a hallmark of the Hästens collection thanks to the iconic Blue Check® pattern. Contrasting with the then-fashionable colors, Jack Ryde, the 4th generation CEO, introduced the iconic pattern in 1978, which has become a trademark even in mainstream images, as evidenced by the recent Netflix appearance. A classic, timeless pattern that made the bed the centerpiece of the bedroom not only because of its functionality but also because of its exclusive design.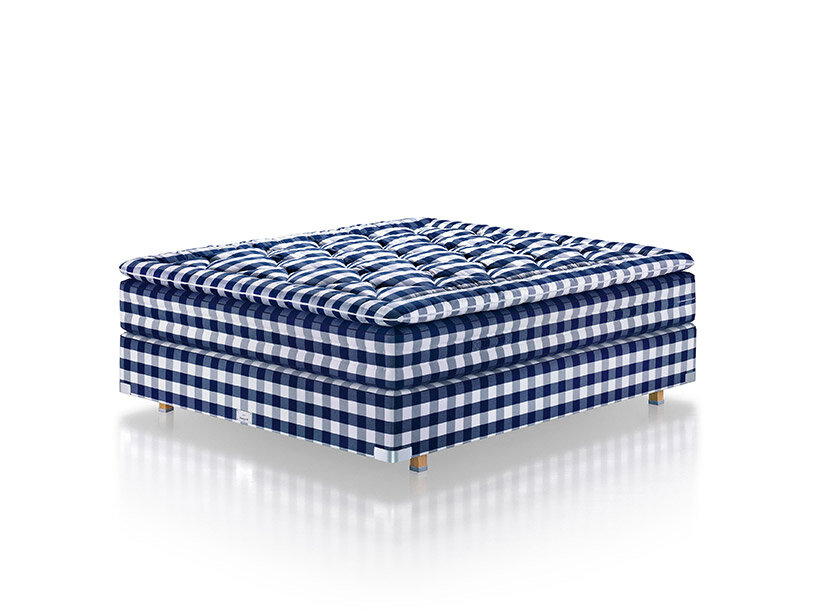 Image courtesy of Hästens
Classic and at the same time very modern, as it is still perceived today even after 45 years of its introduction, the Blue Check® revolutionized the bedding industry forever. The checkered pattern can be ordered in 16 colors, but the blue version is the one that really showcases the Hästens identity. Not coincidentally, some scientific studies claim that blue is the color recommended for enhancing recovery. In fact, blue bedrooms have been shown to provide better sleep quality and promote feelings of protection, calm, and relaxation.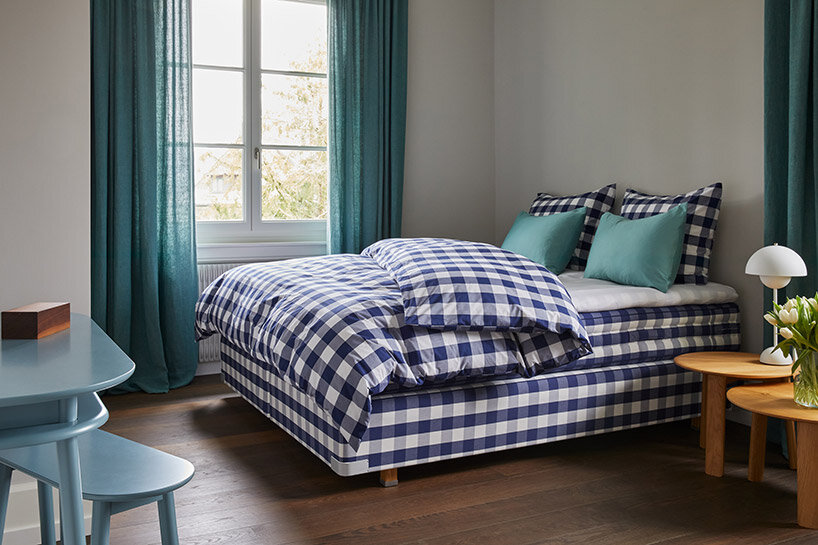 Image courtesy of Hästens