an inviting threshold for st. Moritz
Barbara 'Bobbie' Stauffacher Solomon brings her larger than life 'Super Graphics' labeling with a new one to San Moritz public art Commission at the gates of the Swiss mountain town. In close proximity to this postcard landscape, the young student began his transition from artist to graphic designer half a century ago under the tutelage of Armin Hoffmann – an acclaimed designer known for his instrumental role in the development of the clean and minimal Swiss style of topography.
Because her story is closely intertwined with it Switzerland The installation will be a kind of "homecoming" for Solomon, both privately and professionally, as Hans Ulrich Obrist, curator and artistic director of the Serpentine, describes it after its completion last December. 'Almost every town should have a welcome sign,' Obrist tells designboom during a visit to the opening of the installation. In contrast, this mood is particularly true in this era of both global expansion and the emergence of nationalistic and local sentiments.
"Welcome" is almost four meters high and 29 meters wide and contains the designer's minimal "BSS alphabet" and invites the viewer to interact with each letter. This super graphic is a hybrid of writing and architecture that creates an impressive spatial effect that will welcome visitors to St. Moritz until April 2023.
Welcome by Barbara Stauffacher Solomon in St.Moritz | all images courtesy of the artist & Bartha
Image © fotoswiss by Giancarlo Cattaneo. Drone footage courtesy of Samedan Airport
The work was coordinated by Barbara Stauffacher Solomon gallery by Bartha from Basel, together with serpentine artistic director Hans Ulrich Obrist; Catherine Caratsch from St Moritz tourism, and Lady Elena Foster – a curator, editor of Ivory Press, Chair of the Serpentine Council and wife of architect Sir Norman Foster. This was also made possible by the Thomas and Doris Ammann Foundation. Last January, the installation took center stage at the Engadin Art Talks.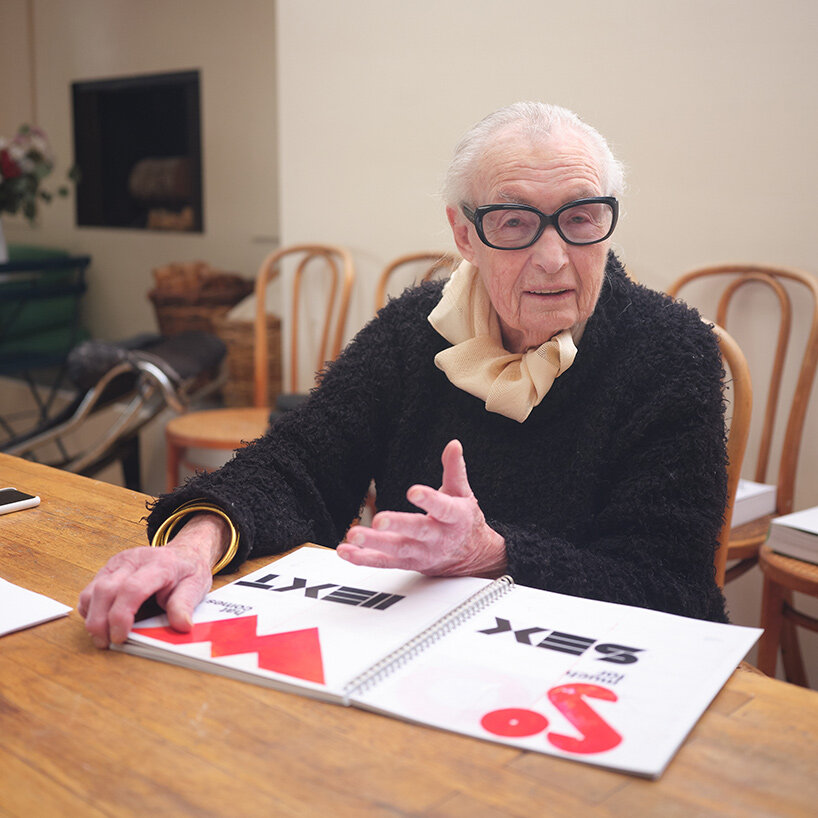 Barbara Stauffacher Solomon, photo by Chris Grunder, December 2020
Born in 1928, the artist now lives in her hometown of San Francisco, a city whose radical spirit harmonized with her modernist education in Switzerland. designboom spoke to Solomon to find out how her background and philosophies have led her to become an influential figure in the world of design and architecture with her floor-to-ceiling graphic work.
LEARN GRAPHIC DESIGN AND MEET HELVETICA
Between 1956 and 1959, after the death of her husband just six years after their marriage, Barbara Stauffacher Solomon moved to Basel, Switzerland to study graphic design at the Basel Art Institute. At this arts-oriented "arts school," she studied under Armin Hofmann, whose meticulous design methods shaped her rigor for modernist typefaces with legibility and clean, bold lines.
designboom (DB): You once said that you spent the entire first year at the Kunstgewerbeschule working on a Helvetica alphabet. Why was that?
Barbara Stauffacher Solomon (BSS): Yes! We could make the letter shapes thin or thick or square. But otherwise you did it until you could do it perfectly with Armin [Hoffmann] to look over the shoulder. It sounds boring, but we all learned so much. We learned how to see every tiny millimeter of black against the white and white spaces in the letterforms.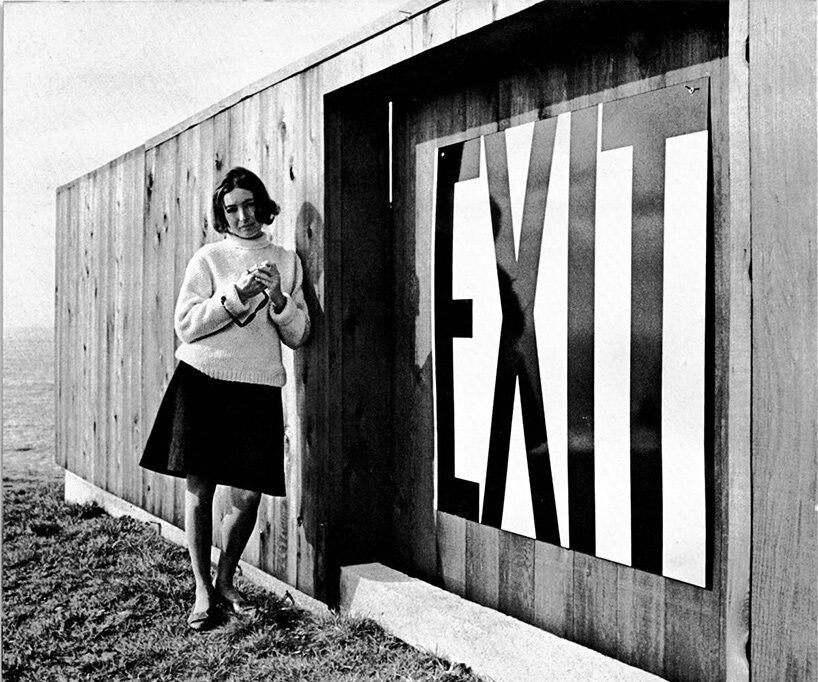 Barbara Stauffacher Solomon with mock 'Exit' sign at Demonstration House
Image courtesy Journey to the Sea Ranch
DB: You lament that your beloved Helvetica became the script of capitalism, not socialism – like modern architecture, perhaps originally intended for the less wealthy, but only the wealthy can afford. Can you explain that in more detail?
BSS: I don't regret it, it's life. But it's weird that they blame me. What I made of it – I made an art form of it. Now when I write something in my new alphabet that's even more minimalist, it's called art! which is crazy The whole idea of ​​modernism was created so that people could have things that were beautiful even if they weren't expensive.
Thing is, rich people had good eyesight and they were smart. They liked Helvetica and started using it. It's like modern architecture. They liked the nice little white houses and they were expensive. The rich were the only ones who could afford them – not the poor for whom they were intended. A nice simple little white house.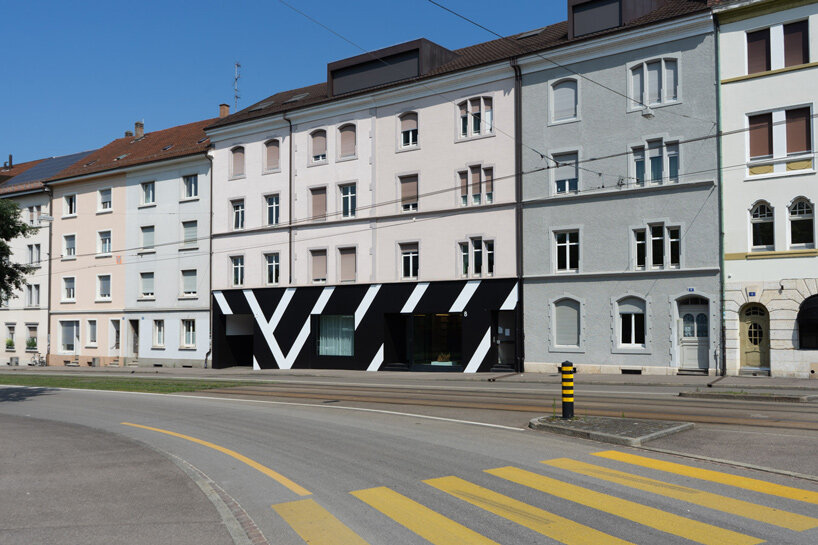 the facade of the offices and side entrance by von Bartha, Basel designed with a super graphic by the artist
Image courtesy Bartha's gallery
DB: Do the rich tend towards minimalism rather than complexity in design?
BSS: Rich people had decorations when they got a house or when they got fancy lettering with lots of serifs and flourishes. That was for the rich! The people who designed in the modern age were not seduced by capitalist decorations. things you didn't need. You used to have a fancy house with decoration and fancy furniture. The modernists made it all very easy. And much nicer.