The Polish house by MEEKO stands between modernity and archetype
MEEKO Architects completes the construction of a single family home House near Mielec, Polandwhich form a sophisticated combination of tradition and modernity. First shared on Designboom in 2018The project examines the architectural expression that meets between the archetypal form of a barn with a pediment roof and the contemporary and minimalist approach of a residential building. The structure forms a cube-shaped body on the ground floor that supports the typical triangular cover. The two main parts of the house differ not only in colour, shape and function, but also in terms of materials.
The hard-wearing standing seam panel in anthracite "Ruukki Classic" in the upper part of the building fits seamlessly into the geometry of the house, while the simple gabled roof and facade are covered with sheet metal metal leave a unified impression. Color differentiates between the volumes, with the ground floor standing out in white and the barn-like shape balancing the appearance of the home in dark tones that reflect the warm tones of the cedar boards and window frames. A large covered terrace is located in a corner alcove on the ground floor with an ideal south-west orientation. The covered terrace serves as an outdoor extension of both the kitchen and the dining room in the living area.

View of the house from the garden represents a dialogue of two forms | all pictures by ONI Studio – Maciej Jeżyk
the interior layout divides public and private use into two levels
The interior of the house includes various advanced technical features and the space layout is designed according to user preferences. The ground floor arranges the common functions of a kitchen, a separate dining room, a hidden pantry, a study, a bathroom and a spacious living room with a fireplace. A covered terrace in the corner of the volume stands as an extension of the dining and living room. The upper floor combines the private rooms with children's rooms, a master bedroom including a separate dressing room as well as two bathrooms and a laundry room. Laying on the flat roof of the building the design group forms two separate terraces to increase comfort and maximize the outdoor space.
The modern technology applied in construction allows energy consumption to be controlled, while the implementation of intelligent systems maintains efficiency throughout the building. A carefully planned garden completes the design, which intersperses natural planting such as perennials and trees. The project aims to design an elegant residential building that is a hybrid barn-modernist structure, but also meets the needs of everyday life.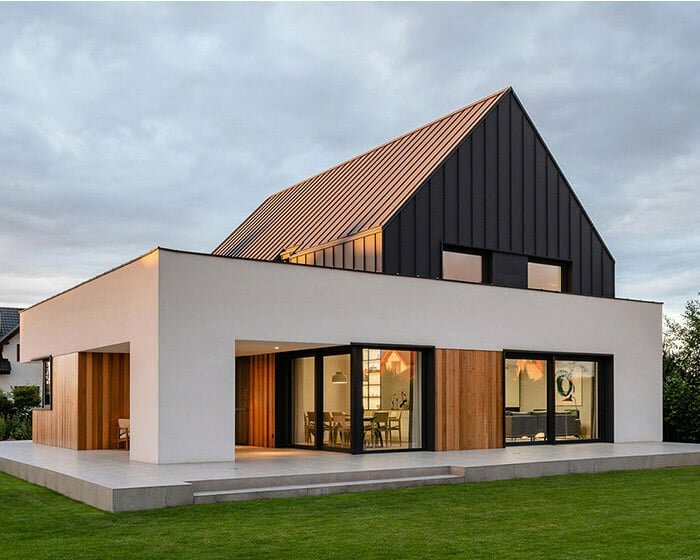 Main entrance and kitchen corner window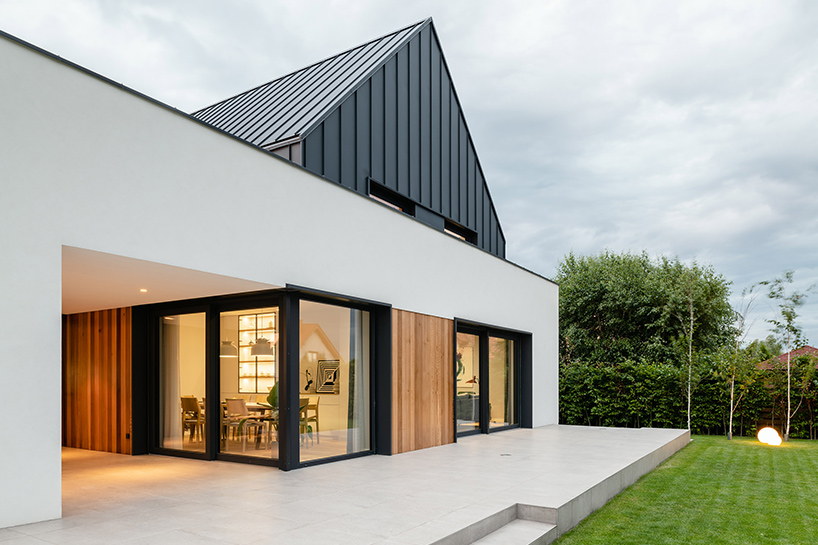 Corner window and cedar wall finish in patio alcove