a 'bean' for new york
At long last, Anish Kapoor's first permanent publicly in … works new York reaches consummation, the amorphous and reflective sculpture commonly known as The Bean. The work is squeezed tightly beneath the cantilever panels that shade the base of 56 Leonard Street, the 2017-built "Jenga" tower designed by Herzog & de Meuron and Hill West Architects. It shows clear influence from his acquaintance cloud gate Sculpture in Chicago – the original "Bean". Today, the building is a recognizable addition to the city's skyline and houses a four-bedroom apartment that Kapoor himself purchased in 2016.

Image © designboom
the challenging assembly
Residents of the New York borough of Tribeca have long been troubled by the sights and sounds of Bean's installation, which first began in 2019. While it was no surprise that it would prove difficult to produce, the colossal work of art was perhaps more complex than expected. In fact, the means by which the seamless finish was achieved were both proprietary and without precedent. In all, the work consists of thirty-eight stainless steel plates carefully welded together over a supporting frame. Overall, it measures 48 feet long and 19 feet high and weighs 40 tons.
After all work was halted by the COVID pandemic — and resumed in September 2021 — the reflective skin was reportedly even burst due to thermal differences between its shaded and sunlit surfaces. And yet, after a series of obstacles, the bean has finally reached seamless completion to mark a new sculptural icon for New York.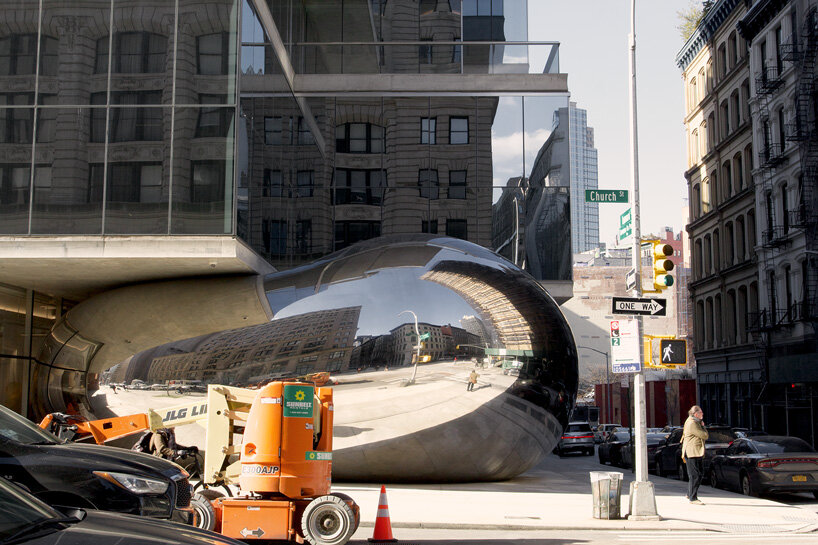 Image © designboom
a moment to think
The bean takes shape as a single form, its deep, curved, concave surface reflecting the sky and cityscape around it. Its stainless steel surface runs in a continuous line that wraps around the perimeter of the sculpture, creating a distorted abstraction of its context. The sculpture's reflective surface creates an ever-changing experience for the viewer, encouraging exploration and amazement as passers-by turn the corner from Church and Leonard.
Anish Kapoor introduces the sculpture known as "The Bean" as a captivating addition to Tribeca's bustling sidewalks. In its solitude, the work offers a moment of respite from the city – its reflective surface invites passers-by to pause and explore the distorted cityscape, themselves immersed in their reflective surroundings. In this way, the work creates an intimate connection with the viewer. During the day the sculpture is a beacon, while at night its reflective surface is illuminated by its surroundings.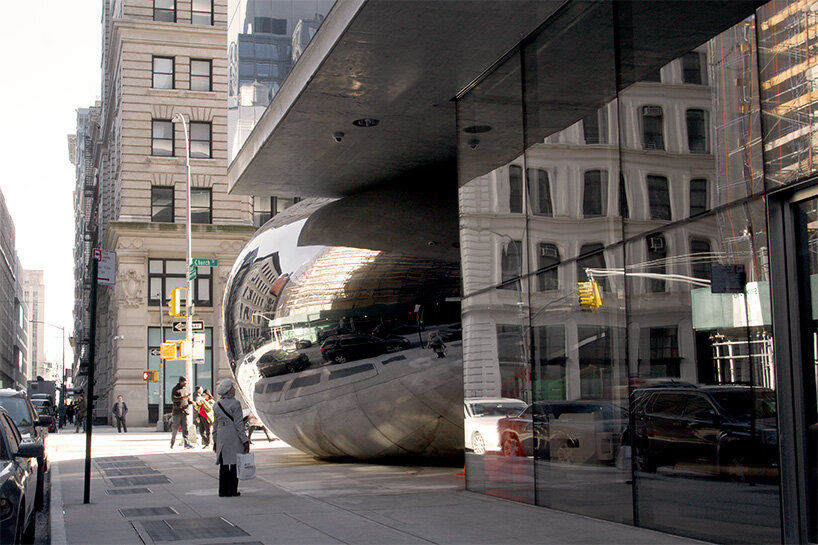 Image © designboom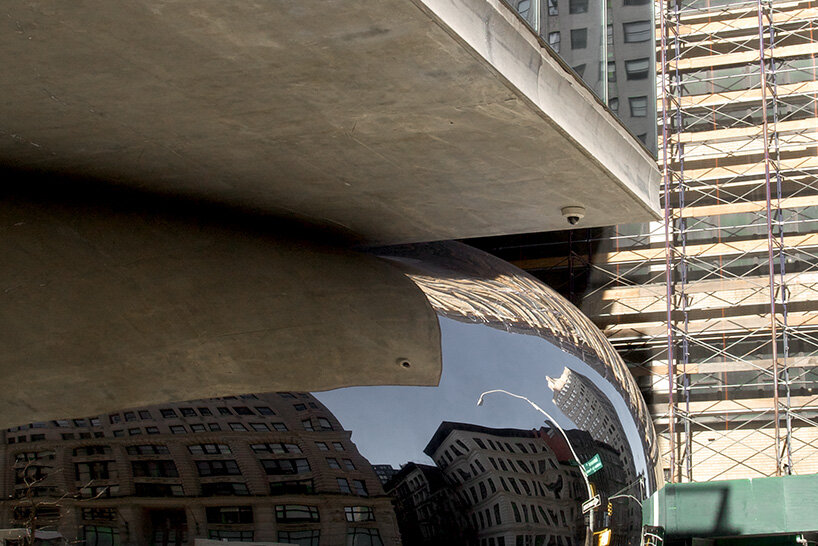 Image © designboom